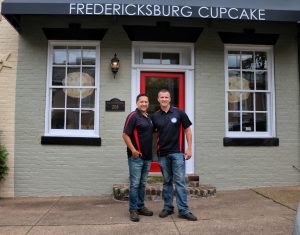 Fredericksburg Cupcake opened its' doors in November of 2017. We started in 2010 as a boutique cupcake shop located in Alexandria, Virginia at 1022 King Street, between Patrick Street and Henry Street. Due to popularity and demand, we decided to expand our operations to Fredericksburg, Virginia!
Fredericksburg Cupcake is a unique cupcake boutique bakery located at 206 George Street and one of a kind! As you walk through the front door, you will be greeted with a unique decor consisting of a European contemporary minimalist style. Gracing the contemporary decor, the building adds a warm eclectic touch with its eye-catching rustic fireplace. With its signature colors throughout the boutique, Fredericksburg Cupcake is sure to leave a lasting impression.
All of our cupcakes are baked fresh every day!  You will never have a cupcake that has been refrigerated nor leftover from a previous day, this is our guarantee to you!
We have street parking available.
Hours of Operation:
MONDAY:

CLOSED

TUESDAY:

11 00 AM – 7:00 PM

WEDNESDAY: 11 00 AM – 7:00 PM

THURSDAY:

11 00 AM – 7:00 PM

FRIDAY:

11:00 AM – 9:00 PM

SATURDAY:

11:00 AM – 9:00 PM

SUNDAY:

12:00 PM – 7:00 PM